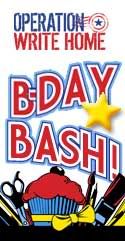 I was contacted a while back by Jan from
Operation Write Home
asking if I would like to have our
Dutch Dare
blog participate in the birthday celebration of
Operation Write Home
. I thought it would be a great idea to help get some cards made for the many US soldiers that are currently deployed around the world. Now although I am Canadian and this is a US based program, I jumped at the chance to help out. I think it's a fantastic organization doing such a wonderful thing! If any fellow Canadians out there know of a similar set up here in Canada, please let me know.
I went with a Thinking of You card, but all types of themes are always required: birthday, specific holidays (Thanksgiving, Christmas, etc), general, thank you, anniversary, love, etc. My card is A2 size as well. It felt funny to make a card this size, mine are usually 6" x 6", but there are some specific requirements when making cards for OWH, so I made sure to follow them.
Here's a bit more about this fantastic organization:
Operation Write Home is an organization that sends blank handmade greeting cards for all occasions to deployed service members to write home on. They've mailed approximately 500,000 cards so far—and are still going strong! Our challenge to you is to make cards to send to them for our nation's heroes.
So hope on over to the
Dutch Dare
challenge blog to participate with us.